IPAC is the leading private higher education institution for work-study programmes in the Alpine region (from Geneva to Grenoble). It is recognised by the State and offers PREPA CONCOURS, BTS, BACHELOR and MBA (Master of Business Administration) courses, from level 4 to level 7 programmes (post-BAC to BAC+5).
"Recognition is analysed for the public authority as the granting of advantages linked to the execution of missions of general interest."
Recognition thus allows the State, after having ensured the level of the establishments, to discharge part of its public service obligations on them, officially attesting to the value of the establishment.

Thus, IPAC :
can accommodate teachers from the public education system,
is authorised to receive national scholarship holders (CROUS scholarships) for certain programs, 
may apply for recognition of the diploma it issues,
implements the study plans, programmes and timetables indicated at the time of recognition,
appoints teaching staff subject to the approval of the Ministry of Education,
is subject to inspection from relevant national authorities under the same conditions as public schools.
(Source: "Les établissements Privés d'Enseignement Supérieur" Pierre-Henri PRELOT)
IPAC has been committed to promote and implement work-study programmes : 
Our campuses have been privileged partners of the Institut de Formation par Alternance - IFA des Alpes since 2019. This is an interprofessional CFA, created on the initiative of the MEDEF, the CPME, the CCI and the CMA. Its mission is to promote and develop apprenticeship in close partnership with high schools and public and private establishments within the framework of apprenticeship training units (UFA).
Visit the website of the IFA des Alpes :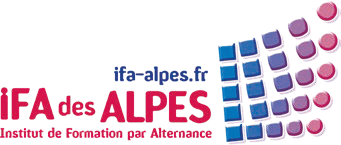 It allows IPAC to offer students and companies an apprenticeship contract to carry out a work-study programme.
Areas of study :
Commerce - Sales - Management - Communication - Marketing - Digital - Human Resources - International - Banking Insurance - Management Accounting - Logistics and Transport -  Payroll - Administrative - Tourism - Health Social
IPAC in figures :
IPAC, a school at the heart of several networks :
IPAC is member of Campus France
A network focused on Switzerland
A network focused on business creation
A network of local and national companies
IPAC is ISO 9001:2015 certified.
(ISO: International Organisation for Standardization)
Qualiopi certification


 

H+ Label

   
The importance of access to higher education and inclusion for all
All of our campuses work in partnership with local associations to facilitate access to higher education for all, including students with disabilities. In addition to our school complying wtih accessibility standards, our programs will be adapted to the needs of each student: 
PRM access
Hearing, speech, vision impairment
Dys-
Invisible disability
Any other situation requiring specific care
The applications are studied with care and the program is adapted as much as possible to the needs of the student.
In order to help you, you can attach the following document: disability declaration to your application.
Occupational equality index of 96/100 in 2021
IPAC strives for equality within the company, specifically respecting an equal share of women and men. We are proud to hold the high score of 96/100! We make sure that women and men are equal in terms of pay, pay rises and promotions.